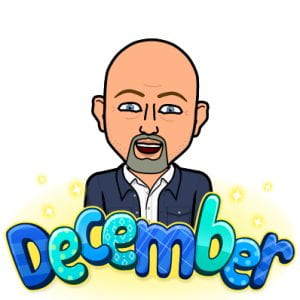 It is hard to believe we've reached December, this year seems to be going by so fast! Funny how 'time flies' when you are busy, focused in on the work, and chugging along through another school year. If you are like me, you get a little bit of tunnel vision at this time of year. There are so many things that have to be accomplished and tasks to be met. Often that means the main thing, you know, those goals and plans you had way back in August, has been set to the side. Gone…but not forgotten (totally).
To help keep you working on the work, keeping the main thing as the MAIN THING, here are the Top Three Strategies to keep that main thing front and center:
STOP where you are, write down what that MAIN THING was to begin the year. We make priority lists every day (well, most of us on most days) and it can be easy to identify that biggest pressure point, the thing that MUST happen. So, do that…but instead of the biggest pressing issue of the day, identify that biggest goal, problem of practice, or initiative and label it as your MAIN THING.
POST it where it is visible. When you have it in plain sight as a daily reminder, you force yourself to think about it often. You used strategy number one to label it, now take ownership of it. Keep that MAIN THING in the front of your mind and stop allowing the firefighting to get in the way. The best leaders model the behaviors they wish to see in others. Here is a great opportunity to model for your staff how to focus on what really matters and to make it your top priority.
CHECK on it by getting yourself on the balcony. I refer to the balcony in my book, Road to Awesome: Empower, Lead, Change the Game (new second edition coming soon) as the place where I could go to the video and see how I was performing on my top priorities. I would check in on myself about once per week for about 15 minutes. I put it on the calendar to ensure it happened. This is basically a self-accountability mechanism, by which you can continue to remind yourself and gauge your performance toward accomplishing the MAIN THING.
Don't be fooled or confused with this post and think I am saying you should only work on the main thing. That is NOT what I am saying. What I am saying is that you should be allocating your time appropriately, so that you keep the main thing as your priority and it can get accomplished.
You will always have challenges with managing the organizational management tasks (quick #PepTalk video on that topic here) but if you arrange your time around the priorities of your job (including the management stuff, discipline, evaluations, paperwork, emails) you can begin to take charge and keep the main thing as the MAIN THING.
Keeping the main thing as the main thing is one of the Five Leadership Mindsets I share in my new eBook Walking in Your Purpose: Five Mindsets to Level Up Your Leadership – and you can it FOR FREE – hit the link here to get your copy
Have a #RoadToAwesome week
Darrin
Learn more and sign up for our weekly newsletter at roadtoawesome.net
Make sure you subscribe (button on the left) so you don't miss any future posts.
Looking for that awesome speaker with an incredible message to build your staff culture? Look no further – connect with me here
Tune into our podcast "Leaning into Leadership" available everywhere you get your podcast fix. This week's guest is Dr. Larry Dake, Assistant Superintendent in Binghamton, NY.