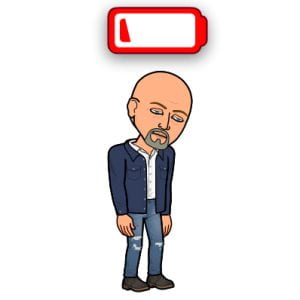 Ok, let's be honest. You cannot go 100 miles an hour all the time. You can try, but if you overdo you will get exhausted, get sick, or get burned out. This is a super short post but the point is this…occasionally you have to SHUT IT DOWN. Think about this, shutting it down doesn't mean you take days off, rather it could be just a few minutes in the day when you just pause and take care of yourself. With that, here are three quick ideas of how you can shut it down for a little self-time.
Lights and shoes off – this might seem silly, but let your secretary know you are not available for 15 minutes. Find a quiet spot in your office or somewhere private and just take off your shoes, turn off the lights, and just breathe and relax. There is nothing wrong with doing this during your day. You deserve to take care of yourself, your staff has prep times, afterall. You need to have that short window of time to just hit reset. As a principal, my office was a great place for this but we also had a great 'officials room' that had a couch and no windows. Again, just catch your breath.
Put an extra 15 minutes on the calendar on your way to a meeting or around your lunch. Get in your car and just go for a little drive. You are in demand, principal. So allow yourself to have some of that demand. Take that extra time, stop for a latte or a Diet Coke, and enjoy a few minutes for yourself.
Show up early/stay late and hit the weight room or treadmill. As a high school principal, I had access to amazing workout facilities. If you have that, use it. Get on the elliptical, spend a little time on the treadmill or lifting some weights. Take care of yourself so you can take care of others.
So, here's the point. You are super important in the work you do and how you lead your staff. So you have to take care of yourself. Being a principal is such a tough job and can lead to high levels of stress, poor eating habits (eating standing up anyone?), and weight gain. Set a little time aside to take care of yourself.
Have a #RoadToAwesome week
Darrin
Learn more and sign up for our weekly newsletter at roadtoawesome.net
Make sure you subscribe (button on the left) so you don't miss any future posts.
Looking for that awesome speaker with an incredible message to build your staff culture? Look no further – connect with me here
Tune into our podcast "Leaning into Leadership" available everywhere you get your podcast fix. This week's guest is Dr. Amy Matthews Perez.