You wouldn't know by looking…it's not something that is easy to see.
The corner is empty now but it took time to get that way. When we first moved in, the corner was filled with stuff from the previous owner, stuff they didn't take with them. Large limbs from our old tree, a charcoal grill, pieces of lumber, things left behind.
When we moved in, cleaning this corner of the backyard was not a priority. We had many other pressing needs, things to be settled, set up, arranged. Eventually, we didn't even notice that corner. It didn't get cleaned up, arranged, or even used.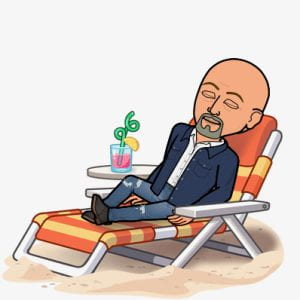 But, like so often happens, we hit a point and decided to clean it up. I got out the chainsaw and cut up the limbs, we used our saw to cut the old lumber. Gradually, the things left behind made their way into the trash container. Now the corner is cleaned, it has adirondack chairs, a table…it has purpose, it gets used. It took time, but we got there. Some spaces just take more time but we value them all the same.
Why write about an old corner by my garage? Because it felt like more than just a corner. So often we jump into our school year and focus on the pressing needs. Teachers jump in and focus on teaching content and meeting the standards. Administrators get rolling on the operational demands of leading a building.
It makes sense…but what about that corner? It might represent things left behind in the school by a previous leader. It could be the struggles a student carries with them from a previous school year, feelings that make learning challenging for them. It may be symbolic of the baggage carried by many. It isn't yours but you are the one who can clean it up, allow it to move on, empty it. Give that corner a new purpose.
Have a #RoadToAwesome week
Darrin
Let's go!!! The entire month of May, the Leaning into Leadership podcast is dedicated to aspiring, rising, and new school/district leaders. Each week's episode will have a special guest and a very specific topic. I will also be releasing special mid-week episodes all through the month. Make sure you subscribe so you don't miss any of this awesome content!  Tune in this week to "Leaning into Leadership" where my guest is Jason Ryan, principal at Papillion La Vista High School in Nebraska.
Road to Awesome: The Journey of a Leader is now available. Click here to purchase the autographed copy.
Want to buy the book on Amazon instead? Click here
Need some help? Got a question? Reach out, let's talk.
Learn more and sign up for our weekly newsletter at roadtoawesome.net
Make sure you subscribe (button on the left) so you don't miss any future posts.
Looking for that awesome speaker with an incredible message to build your staff culture? Look no further – connect with me here