I am an avid reader. I read a lot. Not only because I run a small, independent publishing company (Road to Awesome Publishing) but because I find great joy in reading. And, I learn a great deal from books. I recently appeared on the Limitless Leadership Lounge podcast (link to episode if you're interested). During the interview, Coach Jim Johnson (one of the hosts) asked about my all-time top 3 leadership books. I was glad he gave me a heads-up that this question was coming. I was prepared and answered with these three amazing books: The ONE Thing by Gary Keller; Matter by Peter Sheahan; and The Energy Bus by Jon Gordon.
All three are incredible in their own way. If you haven't read one (or all) of them, make it a priority for 2023.
If Coach Johnson had asked you this question, what would your answer have been? What's the best book you've ever read? Is it one that is a personal favorite or a professional 'go to' type of book? Perhaps it's a book you read for pleasure. Are there specific genres of books you prefer over others? Are you like me and have a book recommendation for nearly every situation? (seriously, my leadership team starting jokingly saying 'I've got a book for that' because I said it so much)
Over the course of this past calendar year, I have read in excess of 35 books, and have skimmed and scanned a whole lot more. I am certain I have read well into the hundreds of leadership books during my career and now am climbing the list with business, marketing, and personal improvement books as well. Allow me to share with you the books I've read during the 2022 calendar year, along with what I'm reading now and some of my 'chart toppers' that I just couldn't put down.
What I'm reading now: Fear No Evil by James Patterson. Ok, I am a huge Alex Cross fan, and this book is not disappointing by any means. I am about half way and will finish before the calendar reads 2023, so I'm counting it.
Best Book of the Year: Illogical by Emmanuel Acho (powerful – I could not put this one down)
Favorite Education Book of the Year*: Evolving with Gratitude by Lainie Rowell (check out my podcast with her)
* I won't put one of our Road to Awesome books here; they are all my favorites and can't pick one over the others – oh and they are all great!!!)
Favorite Business Book of the Year: Super Fans by Pat Flynn (game changer!)
Favorite Leadership Book of the Year: The 10 Stories Great Leaders Tell by Paul Smith (started an idea brewing in my head)
Favorite Read for Pleasure Book of the Year: Billy Summers by Stephen King (wow, read this one folks – and it's not a horror book)
Most Disappointing Read: The Death of the Black Widow by James Patterson
In no particular order, here are the books I have read during the 2022 calendar year.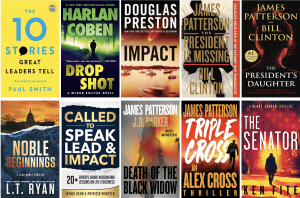 There was once a time in my life when I wasn't a big reader. I had moved away from reading for enjoyment and simply found other ways to occupy my time. Completing over 35 books this year is good, but my goal will be to read over 50 books in the 2023.
We have some awesome titles coming from Road to Awesome this year. My book will be re-released in January as the second edition of Road to Awesome. Business books and self-improvement books are continuing to grow as a passion. And, the recommendations from all of you will keep me rolling well into the coming months of the new year.
LET'S HIT THE BOOKS!!
What are you reading? What is your reading goal for this calendar year? Have a great book recommendation you'd like to share? Add it in the comments, tag me on social media, or reach out to me at roadtoawesome.net
Happy Holidays to all of you from all of us here at Road to Awesome LLC
Have a #RoadToAwesome week
Darrin
Learn more and sign up for our weekly newsletter at roadtoawesome.net
Make sure you subscribe (button on the left) so you don't miss any future posts.
Looking for that awesome speaker with an incredible message to build your staff culture? Look no further – connect with me here
Tune into our podcast "Leaning into Leadership" available everywhere you get your podcast fix. This week on episode 51, I am reflecting on my goals for 2022, sharing my goals for 2023, progress on my #OneWord2022 and unveiling my #OneWord2023.