Have you ever had one of those moments when what you thought you had asked for and what you actually got were two different things? It can often come down to communication and what you have set and shared for your expectations.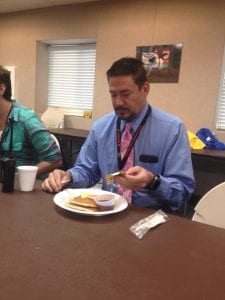 A quick story to illustrate: I was attending an event during my time as a high school principal with my leadership team. This was a really great community event which pulled middle and high school students from both districts in the county to a central location and taught life lessons around being a teen. The mayor of our town and his wife were there and, along with many other community members, were making and serving breakfast to all the volunteers. As my team and I ate pancakes and eggs, the mayor's wife came by asking if we'd like more. We all voiced our appreciation and, in our ways, told her no thank you. One member of my team, Bradlee W. Skinner, used a tapping of the table as his method of saying no thanks. Several minutes later, the mayor's wife brought another full plate for Bradlee, believing his signal to be meaning 'bring it on' rather than 'I'm tapping out'. His reaction (see picture at right) was priceless and captures the look many of us might have when presented with something different from what we expected.
When you think about communicating your expectations, have you fallen into this trap? If so, consider the following:
Process as given/process as understood – this protocol, often called PAG/PAU, is as simple as asking two questions. First, ask 'what did you hear me say?' Follow that question with 'what does that mean to you?' This allows for any miscommunication or misunderstanding to be cleared up in advance of moving into any work.
Model – as simple as it might seem, when expecting behaviors or actions, sharing by modeling what it is that you expect goes a long way toward having our expectations met.
Repeat, repeat, repeat – many school leaders (myself included) have slipped on this banana peel. If you state your expectations only once and think they will be remembered six months later, well…that's on you. Sharing expectations many times over not only works with our littlest learners, it works with adults.
Hold people to the standard – simply put, people will rise or fall to the level of expectation you are willing to hold them to. If you have 'high expectations' yet continually accept a performance that falls below the standard, you have only high hopes.
It is never too late to reinforce and remind your students or staff of your expectations. If you've failed to repeat and remind during the course of the year, don't blame them…own it, fix it, and move forward. Just as they might fall short of the expectation when you don't hold them to the standard, they also will rise. Be the leader they need and deserve.
Have a #RoadtoAwesome week,
Darrin
PS: make sure you sign up for our weekly newsletter on roadtoawesome.net
Follow the Leaning Into Leadership podcast wherever you listen in.