Hey Leaders – STOP SOLVING THEIR PROBLEMS!!
Yep, you read that right – stop solving their problems. I know what you're thinking, Darrin has lost his mind. But stay with me for a moment. As leaders, we have a bad habit of wanting to the be the one who has all the answers and solves every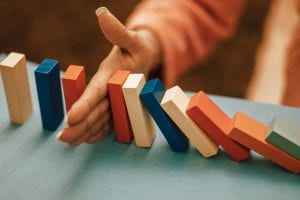 one's problems. While that may seem like the purpose of the role, it is honestly counterproductive. Think about this, what would happen if all those little things you have to do for others could be accomplished by them with a little trust, encouragement, and coaching. Would that not free you up to do a lot more leading?
When I first began as a superintendent, I found my HR/Finance Director doing exactly this. She was doing the work of so many others and struggled to get accomplished the things she really wanted to be, and needed to be doing. Essentially, everyone came to her for every little thing you can imagine. Now, as a leader, is does feel great to be needed and to know the answers. But, perhaps, our most important role as a leader is to empower others and grow them as leaders. Letting them solve their own problems is a great step in that direction. Here are three things to consider as you let go and let others take the wheel.
Ask what they might want to do rather than give them the answer: This was a game-changer for me while serving as a building principal. I fell into the same trap as many others, thinking I had to know it all, do it all, answer every question. A couple years into my principalship I was able to hire two new assistant principals. It was now my job to grow them and help them be the best they could be. I had done both of their jobs in previous years and easily could have told them how I did things. Rather, when they came to me with questions, I began a practice of answering a question with a question. 'What are you thinking you'd like to do in this situation?' or 'What are possible solutions you are considering?' When we ask their thoughts and ideas, we empower them to think about how they can go about solving the problem. This might be one of the single best leadership practices I used in both my principalship and superintendency.
Share multiple ways you have approached similar issues: Rushing to give the answer may seemlike the right tack to take with leaders we are mentoring or trying to grow. Sometimes it is necessary, like in those moments of a crisis. But when the opportunity presents itself, share ways that you have addressed similar situations. I once had a principal ask me about implementing a practice related to instructional rounds. I shared with her three different ways in which I had implemented instructional rounds and both the good and bad that came with each strategy. This gave her the latitude to create her own process and to not repeat some of the mistakes I had made previously.
Provide support and feedback: I have worked around leaders who were so very good at delegating. I have also worked with those who might best be described as micromanagers. If you're wanting to be in that first group, this is an essential piece of the work. Empowering the people around us requires that we are willing to provide support in the form of knowledge, resources to find information, and feedback. Mind you, giving feedback is not telling someone how to do it. Feedback needs to be descriptive, informative, and actionable. Make the time necessary to sit down and have a conversation with you providing feedback but also for questions, dialogue, and processing. These can be the most rewarding moments in our leadership journey, as we will see the growth happening right before our eyes. We just have to be willing to let it happen.
As you continue your leadership journey, consider these three steps to empower other leaders around you. Be willing to let go of everything you think you need to be doing and allow others the authentic opportunity to lead as well. It doesn't draw away from you as the leader, it honestly enhances your leadership and increases your reach.
Have a #RoadtoAwesome week
Darrin