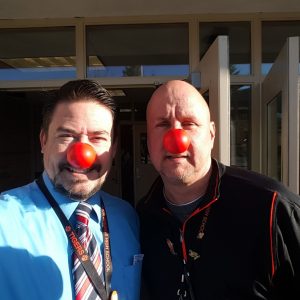 Kickoff rallies, New Year's celebrations, Welcome Back sidewalk chalk!! These are just a few ways to open the year and inspire a change in your school's culture and climate. Fun activities like these may fill Facebook timelines, but what about sustaining that positive start? How do you ensure you haven't expended all your energy in the first week of school only to follow with 35 mundane, exhausting weeks. While there is no simple answer to this question, I can tell you that it ultimately comes down to leadership. Culture and climate of any school is essentially a  reflection of the attitudes and behaviors of the adults in the building. It is not, however, fair to put all that on the shoulders of teachers. Great leaders know it is important to put in time and be intentional around maintaining the energy and having a plan to do so. To help in the process, here are four quick-hit ideas to keep energy high and culture pointed in the right direction.
Make sure staffulty know you see them by giving them a birthday card on their special day complete with a handwritten note and a few Renaissance goodies (Hi pins and Don't Forget to be Awesome magnets are my 'go to'). It's a simple form of recognition, but it lets them know they are important to you.

Alternative or add on: birthday selfies or cupcakes with your students are always a big hit!!

Rallies with a theme will generate a lot of buzz in your hallways. Make sure you have a solid script and awesome costumes. Placing that first quarter academic pep rally right around Halloween is an opportunity for students to join in on the theme with their costumes.

Cool add-on: have staffulty surprise your kids with a flash mob to a great song or line dance. Alternative: staffulty vs. students lip sync contest

Looking for a different way to reward and recognize great behavior and/or academics? Whether it's 'catch 'em doing it right' tickets or 'Road to Awesome' positive referrals, throw in a monthly barbeque for everyone recognized during that month. Nothing gets people excited like the smell of barbequed hamburgers and hot dogs.

Alternative: weather gets cold? Move it inside and make it a nacho bar or chili dogs

Get out and greet them. Being positioned at the front doors gives you an opportunity to see and be seen by parents, bus drivers, staffulty, and your students. Celebrate Friday with 'high fives' not only at the door but throughout the building. Monday can be sluggish so make it a Marvelous Monday with bright colored shirts or placards with fun sayings.

Awesome add-on: throw something different out occasionally; have your pep band playing one morning while everyone is entering or leaving for the day; thank your parents or bus drivers with curbside coffee service.
Like so many others around the country, you planned and put in a ton of effort to kick your year off with high energy and a vow to make it different than other years. Capture the energy and keep it spread throughout the year. It can be an incredible year! You can change and improve the culture and climate of your school! But it will take a focused effort and leadership. So, take a few intentional steps, put a few events on the calendar and that shift in climate can be yours. Enjoy your journey on the #RoadToAwesome