About Darrin M. Peppard  
Hi, I'
m Darrin Peppard and I'm excited you've chosen to join me on the #RoadToAwesome!!    I have been an educator for well over 2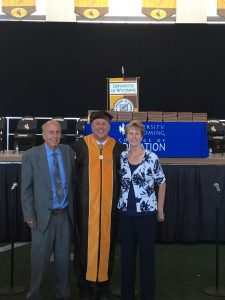 0 years, serving as a teacher, coach, assistant principal, principal, and superintendent. I am passionate about leadership, growing leaders, school climate & culture, and relevant student learning. I earned my undergraduate degree in secondary education (biology & chemistry) from the University of Wyoming. I also hold a Master's Degree from Northern Arizona University (Flagstaff) and a Doctorate Degree from University of Wyoming, both in Educational Leadership. I am a proud husband, father, brother, and son. Living in Colorado is amazing for my favorite hobby, 'jeeping'. My wife, Jess, and I have been married over 20 years and have an amazing daughter, Liz. We also are proud daschund parents to Phoenix and Dexter.
About the #RoadToAwesome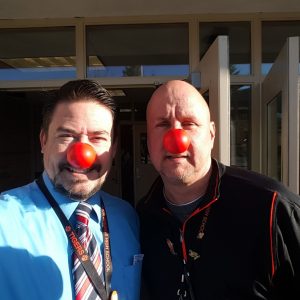 My journey on the #RoadToAwesome began several years ago when I was speaking about student leadership in concert with my good friend Bradlee W. Skinner.
We coined the phrase in a very organic way and have been picking up hitchhikers on the road ever since. When you travel the #RoadToAwesome, you understand it is a way of life, a journey, a learning experience. These two pictures of Bradlee and me, show our true personalities. On the left, we were greeting students at the front door on 'Red Nose Day'. The picture on the right was prior to a presentation on leadership recently titled 'More White Water Rafting Guides, Fewer Cruise Ship Captains'.
Focus and Passion
During my time in education, I have grown very passionate about leadership. I am intrigued by the different methods and strategies leaders use to motivate their teams and achieve their goals. As a leader, I am thoroughly convinced it all begins with the culture and climate in which your team works. I thoroughly enjoy helping other leaders grow and thrive in their work. Growing leaders is not just about adult leadership but also about student leaders. My passion for Jostens Renaissance has driven my focus on student leadership.  As well, relevant student learning through project based learning, internships and job shadowing, along with connecting students with the real world around them, pushes me every day to be the best educator I can be.
Recognition/Accolades 
In 2015, I was named Jostens Renaissance 'Educator of the Year' and was honored to receive this award with a group of staff and students (including my daughter). In 2016, I was recognized as the Wyoming Secondary School 'Principal of the Year'. I have also served on the Jostens Renaissance Advisory Board, Wyoming Association of Secondary Schools Principals (WASSP) board, president-elect and as state rep (WASSP). I currently am Superintendent of Schools in the West Grand School District (Kremmling, CO) and am one of five Jostens Renaissance 'coaches' and can be available for speaking, professional development, and culture/climate consultation.